Polish Federation of Cattle Breeders and Dairy Farmers (PFCBDF) is the only organization authorized by the Ministry of Agriculture and Rural Development to carry out recording of production of both dairy and dual purpose cows in Poland.
Milk recording is organized into three Milk Recording Regions covering whole Poland. In our country performing testing is conducted pursuant to the A method.
PFCBDF employs technicians, who are responsible for carrying out test milking and collecting data, as well as documentation staff responsible for data recording and processing. Besides, PFCBDF owns also 5 laboratories in which analyses of milk samples are run. Each our laboratory analyses milk recording samples for following milk components: percentage content of fat, protein, lactose and dry matter, urea level and somatic cells count.
Since 2013 acetone and BHB have being measured in milk samples and used in calculations aimed at informing the breeders on subclinical ketosis risk. The possibility of subclinical ketosis threat refers to particular cows and also an entire herd.
Milk performance recording has a very long tradition in our country. The very first information about official organization of milk recording in Poland is dated on 1904, when a group of progressive farmers after their visit in Denmark, decided to implement official performance recording in their herds in order to prepare the field for future breeding program.
PFCBDF through its high qualified staff, realizes also following additional services:
Nutritional advisory, together with professional independent fodder analyses, performed in one of our laboratories.

Cross-compliance advisory

Co- organization of regional and national cattle shows

Acting in the interest of PFCBDF members, in international forums by active membership in such organizations as: ICAR, EHRC, WHFF.
Number of recorded cows in Poland 2016 (31th of December 2016)
777.192 cows
19.824 herds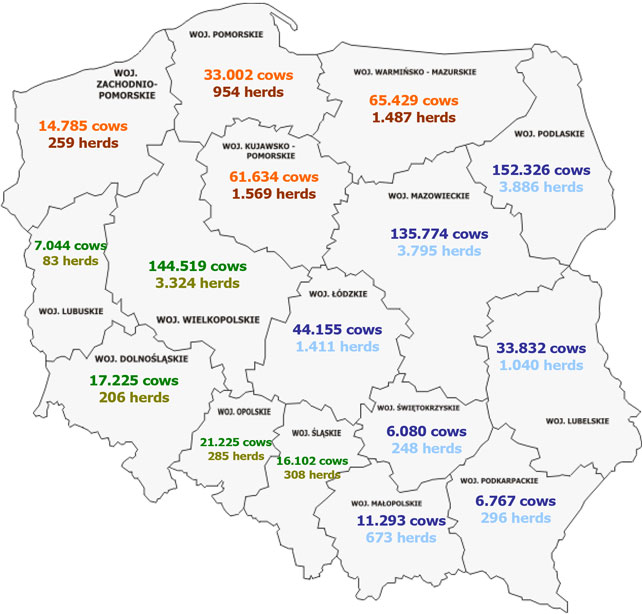 Milk recording results in 2016
Breed

Average number of recorded cows

Milk (kg)

Fat

Protein

kg

%

kg

%

HO

657 729,9

8 055

329

4,09

271

3,36

RW

26 903,0

7 332

307

4,19

249

3,40

SM

10 376,8

6 146

258

4,20

213

3,46

RP

2 975,7

3 523

151

4,25

119

3,39

JE

981,1

6 432

324

5,03

247

3,84

MO

2 959,1

7 438

300

4,03

261

3,51

BG

586,0

4 080

166

4,06

134

3,29

ZR

3 802,8

4 535

188

4,15

148

3,26

ZB

1 994,5

4 711

196

4,15

155

3,29

BS

285,2

6 986

329

4,50

263

3,60

SR

274,1

7 315

330

4,43

266

3,57

NR

202,0

7 095

308

4,34

247

3,48

MM

58 668,2

6 934

294

4,24

237

3,42

OTHER

913,3

7 514

328

4,36

266

3,54

POLAND

768 748,9

7 865

323

4,11

265

3,37
Further information you will find here: